Do you want the most popular tags on your WordPress site to be displayed? The two standard ways to sort content in WordPress are tags and categories. Their broader scope, which gives the tags a little less attention, often makes categories more exposed. In this article we will demonstrate how your most popular tags can easily be displayed in WordPress.
Why and when should most popular WordPress tags be displayed
The two standard taxonomies for sorting your articles in WordPress are categories and tags. Categories are used for larger subjects or sections of your website, and Tags suit your article's specific ideas.
Beginners often use them incorrectly, but easy tools allow you to merge and even convert categories and tags. After you start using correct categories and tags,
you will probably have more tags than categories on your website. You can put your categories on navigation menus because of their broader scope, but your tags often remain less explored. One way to address this is to add the default cloud tag widget to the »  Widgets page to add Tag Cloud widget to the sidebar.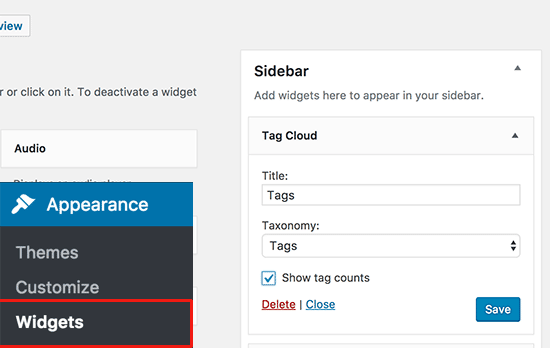 However, you notice that all your tags are displayed alphabetically by the default tags widget. The number of tags you want to view can not be rearranged or restricted.
You can solve this by displaying on your WordPress site the most popular or frequently used tags. This gives your users an idea of which topics are discussed more frequently on your website.
It also helps them to find more content, which means more web pages and user interaction. Let us now see how your most popular WordPress tags can easily be displayed.